Tumbled products
Tumbled bluestone is a natural bluestone which has been rolled in a large mechanical tumbler to give each piece softer, rounded edges. What takes nature hundreds of years to produce we can fabricate in minutes.
Tumbled stone is a flat material, ideal for rustic patios and walks, or for use as wallstone. Its rounded edges give it a natural water worn look. This is one of our most popular products!
Regular Tumbled
Regular tumbled is our most popular tumbled. It is irregular in shape and varies in size from 8″ to 18″ across and is 1 1/2″ to 2″ thick. This product is suited for use in patios, walks and dry laid walls. Coverage flat is approximately 80 sqft/ton. Wallstone coverage is 14-16 sqft/ton.
Large Tumbled
Large tumbled is ideal for use in the larger patios or wider walks. Irregularly shaped, with sizes ranging from 12″ x 18″ up to 2′ x 3′ or more. With it's large surface area, large tumbled provides a more solid footing and also speeds up the setting process. Its thickness varies from 1 1/2″ to 2″. Coverage is approximately 90 sqft/ton.
Small Tumbled
Small tumbled has the same uses as regular tumbled, but on a smaller scale. It is great for low walls and garden paths, and also ideal for water features. It is the perfect product for small projects. Sizes range from 4″ to 8″ across and is 1 1/2″ to 2″ thick. Coverage flat is 100 sqft/ton. Wall coverage is 20 sqft/ton.
Square Tumbled
Square tumbled has similar uses as the other tumbled products but is easier to lay because of its square shape. It is great for patios and paths and has a slightly more formal look than the more irregularly shaped tumbled products.
Tumbled Wallstone
Tumbled wallstone is the same stone as our tumbled paving. Because of its flat surfaces it stacks beautifully and easily.
Tumbled Veneer
Tumbled veneer is a snapped bluestone veneer which is run through the tumbling machine. It's rounded edges give it the same look as tumbled wallstone or pavers. Bed depth is 4″ and coverage is 35 sqft/ton.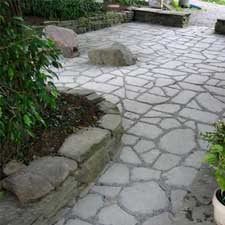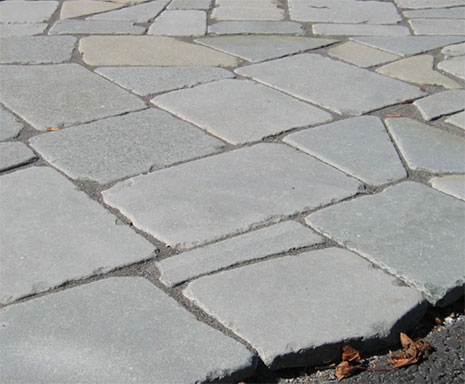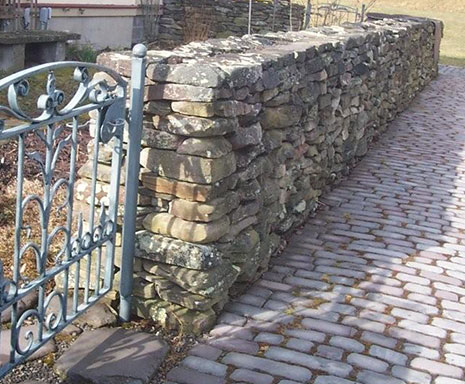 Contact Us
Request a quote for your next project and let us see how we can best serve your project needs!