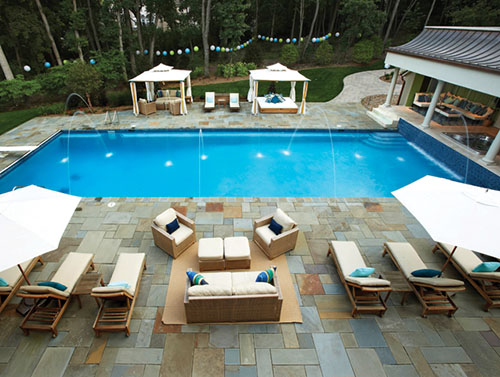 Pattern Flagstone
After the cubes are sawn out of the earth, they are stood up and hand split to reveal the beauty of natural cleft pattern flagstone. The colors range from rich golds and browns to deep blues and greens. All edges are sawn to rectangles and squares of various sizes on 6″ increments. Sizes range from 12″ x 12″ up to 24″ x 36″ with larger sizes available on request. There is no better way to make a beautiful patio or walk.
Full color pattern provides all of the various colors that natural cleft bluestone has to offer. It comes in two different thickness categories, 1″ and 1 1/2″ thick. Sizes range from 12″ x 12″ up to 24″ x 36″ and each dimension is cut to allow for 1/2″ joints. Tolerances are +/- 1/4″.
Select Blue is pattern flagstone that has been sorted to provide only blue tones on the surface. All of the sizes and tolerances are exactly what they are for full color pattern flagstone. Both select blue and full color may be size selected. Please contact us for details.
Irregular Flagstone
Irregular flagstone is a natural cleft bluestone. As its name indicates, it is irregular in shape and is used as a patio or walk stone. Colors range from full color, blue and lilac.
Stone 3/4″ to 1 1/2″ is best suited for using in a mortar set application but it can be used for dry set in warmer climates. Pieces range in size from a minimum of 2 sq. ft. up to 8 sq. ft. Coverage is approximately 130-150 sq. ft. per ton.
Stone 1 1/4″ to 2″ is heavy enough to use in any dry laid application. The pieces range in size from 2 sq. ft. up to 8 sq. ft. Coverage is approximately 90-100 sq. ft. per ton.
Large flat stone is used when strength is needed. Its large pieces with durable thickness makes this ideal for rustic patios. Given its size its best set with a skid steer or other small machine. It is also a great product for erosion control and flat rip rap. Sizes range from 4 sq. ft. to 12 sq. ft. with a thickness of 3″ to 4″. Coverage is approximately 40-50 sq. ft. per ton.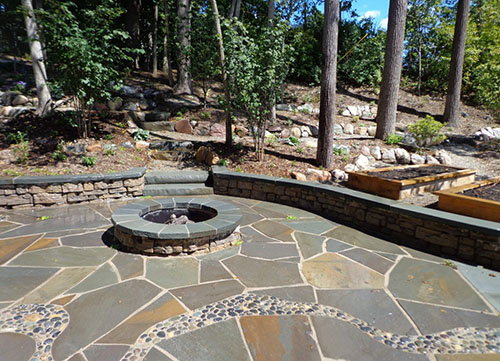 Contact Us
Request a quote for your next project and let us see how we can best serve your bluestone needs!