Finger Lakes Stone Company has been the leading provider of Llenroc & natural stone products to the region's residential and commercial construction industry for more than fifty years.
The natural, on-location quarry is the home of "Llenroc" stone, which produced much of the stone on the campus buildings of the prestigious Cornell University. (And some trivia for you that didn't catch it… Llenroc is Cornell spelled backwards… Something started many decades ago which continues in our business today!)
In addition to our local bluestone (Llenroc), we carry many PA Bluestone landscape products as well as all types of aggregates for construction and decorative landscaping applications. We can offer 6-wheeler & 10-wheeler bulk orders as well as palletized product delivery.
Finger Lakes Stone has a cutting edge knuckle boom truck with the capacity to carry fifteen tons of product directly to the customer's job site. The truck is fitted with a crane that is capable of booming out up to 60 feet, making pallet placement a breeze. Everything needed for the project can be delivered all at once, hassle-free, saving both time and money for the customer.
In addition to the traditional Llenroc natural quarry stone products, Finger Lakes Stone will carry pattern and irregular flagstone, split and round granite cobbles, heavy landscape treads, landscape boulders, colored ground cover gravels, mulches, topsoil, edging and curbing. We also offer several driveway, road base aggregates, fill material, recycled aggregates, and drainage stone. Staff consultation is available to assist customers in deciding what type of stone will work best for their project.
Our Showroom
Finger Lakes Stone has an impressive and enjoyable natural outdoor display "showroom" with samples of their product line on view to the public public Monday through Friday at 33 Quarry Road, two miles from East Hill Plaza off Ellis Hollow Road. Office and customer service hours are Monday through Friday, 7AM to 5PM, and Saturdays 8AM to 12PM (March 1st – October 31st).
For additional information contact Nick Williams at Finger Lakes Stone Company, Inc.
Estimate Request
Call or email today, and let one of our knowledgeable representatives help you with your next project.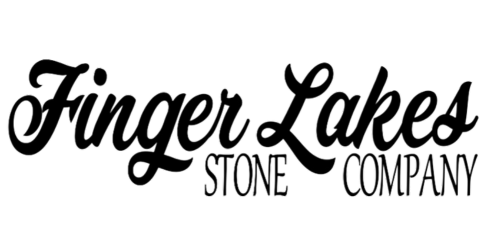 Address: 
33 Quarry Road
Ithaca, NY 14850
Monday-Friday: 7am – 5pm
Saturday: 8am – 12pm (March 1st – Oct. 31st)